BEST MOTHER'S DAY WIG TO MAKE MOM HAPPIER AND YOUNGER
Mother's Day is a great day to let your momma- or any special woman in your life- know how thankful you are to have her. And what better way to show it than giving her something every woman can't have enough of - A wig!
A change of look is something that many women want, but for black mature and older ladies, it can get a little tricky. Many changes happen to our natural hair, and that's where a wig can come to the rescue to keep us looking natural, younger and classy.
You are prone to hair loss, alopecia, and other hair-related problems as you age. There are many reasons for hair loss in older people, including hormonal imbalance, heredity, stress, diet, improper hair products, etc. If your hair gets thinner and breaks, you will look older than your actual age.
It doesn't matter if you want your mom to look younger or get rid of boring hairstyles; you can get perfect salt and pepper wigs for older women here. And no, you don't need to choose old lady gray wigs.
If you do not know what salt and pepper human hair wigs you can get for Mother's Day, here are some suggestions.
Are you ready? Let's dive in.
Salt And Pepper Wigs For Moms Over 40
When a woman turns 40, it's a new dawn for her. It is an age in which many things change, including her looks. So, to invest in this life-changing time of her life, why not opt for a wig?
 If you want to give your mom a new look that she'll appreciate, we recommend the YONCE SALT & PEPPER LOOSE DEEP WAVE 13X4 T-CLOSURE BOB WIG.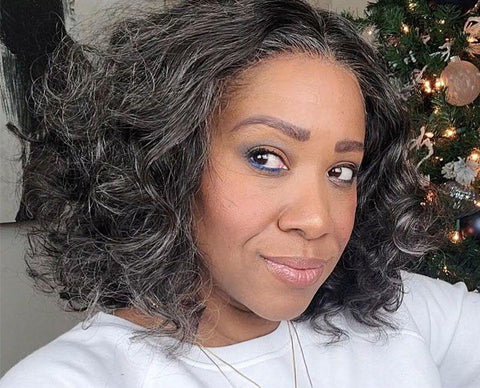 It comes in a bouncy and youthful medium length of 10/12/14 inches, 13 x 4 full front lace, a left part, and 100% human hair. 
Salt and pepper wavy wigs are really flattering on women over 40, especially if you go for a more natural finish. This wig allows you to style your hair in different ways with different lengths but still gives you the body and texture that keeps you looking young and fun!
Without a doubt, this wig will get you on your mom's favorite list…and you know what that means!
Salt And Pepper Wigs For Moms Over 50
Encouraging your mom to maintain a striking look as she gets older is essential. As a black woman gets older, her hair may become dry and start turning gray. But what if she can still try something new to rejuvenate her style apart from conventional gray wigs?
Thanks to the KATIA FREE PART SALT & PEPPER LOOSE DEEP WAVE 13X6 LACE FRONT BOB WIG, this is perfect for every mom.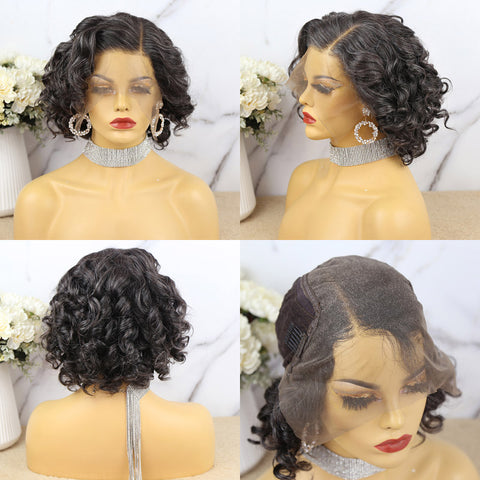 This 12-inch unit is 100% human hair, trendy, classy and elegant. It will give her a million and a half styling options while still giving her volume to give her look a healthy and youthful bounce. The salt and pepper color give a very natural look.
She'll stand out in this!
Why Should You Choose Y-Wigs?
There are various synthetic or natural hair mix synthetic salt n pepper wigs, but here are more reasons you should pick Y-wigs.
100% human hair lace front wig with 150% density.
Natural-looking hair wigs that can be straightened and curled.
Minimize the styling option with the shoulder-length bob wig for women over 40/50.
Get a natural-looking hairline and parting.
Easy and comfortable to wear with medium sizes.
It offers a casual, natural-looking shoulder-length wig for older women with thinning hair.
Works on women of all ages with short bobs and face-framing layers, especially for older black women.
Keep the shape with a memory wig cap, adjustable wig combs and elastic band.
Check out these tutorials on how to rock these wigs.
---